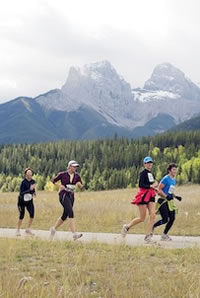 The 16th Annual Canmore Rocky Mountain 10k & 5k Run/Walk is on September 11, 2011.
Considered one of the most beautiful runs in Alberta, the CAUSE Canada Race is routed through woodlands, beside mountain streams, through a historic mine site and stunning views of mountain scenery. The track is a combination of asphalt and high quality gravel trail with several short climbs and winding paths.
Striving to be the GREENEST race in Canada, all possible products and procedure will be eco-friendly. This includes:
Recycling virtually everything, resulting in a waste-free Start/Finish zone.
Exclusively using compostable cups sourced from renewable materials.
Operating support-bicycles along the race course, as opposed to typical carbon generating support-vehicles.
Administering a paper-free registration process.
Serving only BC fruit & locally made baked goods.
We are Bullfrog Powered with 100% Green Electricity
All proceeds from the race will go towards women's literacy, numeracy, and business training in Central America and Western Africa. CAUSE Canada's Women's Integral Empowerment Program (WIEP) is being made possible by revenues generated through partnerships with athletes like you!
Register online today at www.cause.ca/halfmarathon