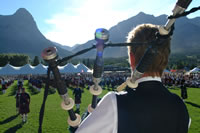 Occurring annually on the Sunday of Labor Day weekend, this festival showcases Celtic culture through a wide variety of events, including piping and drumming competitions, highland dancing, heavy sports contests and sheep dog demos. The events are capped off with a Ceilidh (translation: big Scottish party), complete with food, dancing and live entertainment.
This year's event takes place August 31 to September 1 2019.
It is said that the first Highland Games were organized in Scotland in the 11th century. During the reign of King Malcolm III of Ceann Mór (1058 – 1093), a brae o-mar (flat meadowland) along the River Dee was used in a royal contest to determine who the strongest man in the kingdom was. Competition included a foot race to the summit of Craig Choinnich, overlooking Braemar, with the winner made royal messenger. Our town of Canmore is intertwined with Malcolm and the Highland Games. The name Canmore is an anglicised version of the Gaelic Ceann Mór, which can be translated as big head, great head or chief. It's also claimed that one of the inspirations for Baron Pierre de Coubertin, while he was planning a revival of the Olympic Games, was a Highland Games display he saw at the Paris Exhibition of 1889.
Presented by the Malcolm Scottish Society, the Canmore Highland Games at Centennial Park is one of the signature summer events of Canmore – a full day celebration of everything Celtic, including piping and drumming, highland dancing, heavy sports, sheep dog demonstrations, Celtic vendors, and traditional food and beverages, including a Beer Garden and live music in the Big Rock Festival Tent. As well, you'll thrill to the powerful impact of pipes and drums played en masse at the grand finale of the Games events.
It's easy for anyone to order advance ticket packages for the Games or tickets for the evening Ceilidh online through the festival website, but be quick for the Ceilidh, it's always a sold out event.
Did you know that the Canmore Highland Games has its own tartans? Designed by local weaver, Dorothy Garen, they are woven by Fraser & Kirkbright Weaving Company and registered with the Scottish Register of Tartans. The colours represent the green forests, blue sky and waters of the Bow River, the black coal underground, the white snow-capped mountains, the fuchsia mountain wildflower and yellow for sunny Alberta.
For more information on the Canmore Highland Games visit www.canmorehighlandgames.ca.