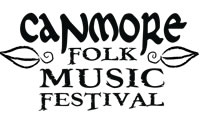 Folk fans are going to be flocking to the Bow Valley during the first weekend of August for the 42nd annual Canmore Folk Music Festival, taking place August 3 to 5 2019 in Canmore's downtown Centennial Park.
The longest-running folk festival in Alberta, the Canmore Folk Festival is renowned for its intimate atmosphere, superb music selection and unparalleled backdrop of majestic mountains. Featuring more than 50 craft, community and food vendor booths, three workshop stages, three evening concerts and a free children's concert, the festival annually draws 3,000 to 5,000 fans daily.
*To get you in the mood, below you will find information from a previous festival which will be updated as soon as new information becomes available.*
This year kids will be entertained with crafts, a climbing wall, clowns, jugglers, story tellers and much more. They are also two playgrounds located within the festival site.
Throughout Sunday and Monday on the workshop stages, magic happens regularly when musicians from around the world meld their talents and create the kind of impromptu party music of which memories are made.
This year's line-up includes the fabulous Martin Sexton, Grammy award winner Mike Farris, the UK's Oysterband, Juno award winner Amelia Curran, festival favorite Harry Manx, Latin American inspired John Reischman and Celso Machado, and remarkable blues & gospel artist Kat Danser to name but a few of the outstanding performers taking the stage over the weekend.
For a full line-up, visit the festival website at www.canmorefolkfestival.com.
The festival kicks off on the evening of Saturday August 1 where a host of musicians, including Kat Danser and bluegrass band Old Man Luedecke, will take to the main festival stage between 4.30pm and 11pm. Sunday August 2 sees daytime performances on 3 different stages from 10.30am to 4.20pm, with Blues, Soul, Celtic and Country being just a few of the genres represented. Sunday evening's entertainment takes place from 4.30pm to 11pm on the main stage, with performances from artists such as the T. Buckley Trio, The Small Glories, and Martin Sexton. Monday's schedule is similar with the daytime performances from 10.30am to 3.20pm on three stages and the evening concert from 3.30pm to 10pm on the main stage, where Coig, The Once, and Oysterband will perform, with Mike Farris bringing the festival to a close from 9pm to 10pm.
In addition to the live music at the main festival site, there is a host of special festival events in Canmore, including a live broadcast of CKUA's The Celtic Show with Andy Donnelly on Friday July 31 from 6-8pm at the Canmore Civic Centre. Other events include a free kids' concert on August 1 from 1-2pm at the Canmore Senior Centre, a youth song writing workshop, free pancake breakfast on August 3, plus the Highline Magazine Pub Stage, yet another opportunity to see live music on Saturday, Sunday and Monday from 2.15-10.45pm (9.45pm finish on Monday) at Union Hall.
Advance tickets are on sale online via TicketPro, or in person at Stonewaters in Canmore. Any remaining tickets will also be available at the gate Saturday, Sunday and Monday.
For more information about the Canmore Folk Music Festival, including the latest event calendar visit www.canmorefolkfestival.com.